SV600 Fixed Acoustic Imager
Detect, locate and visualise the unheard and unseen air and gas leaks or sound signature changes in your process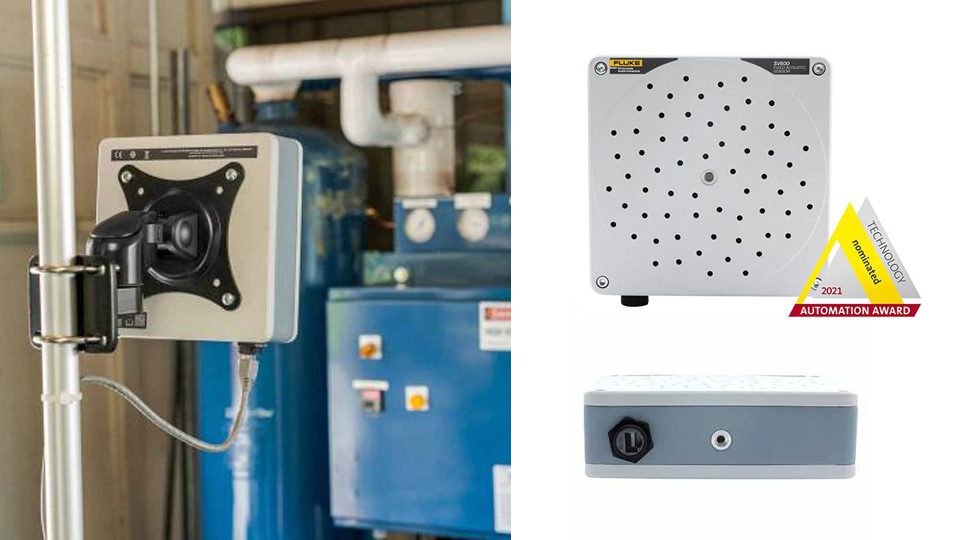 See what you've been missing
Minimise operator intervention with a fully automated and integrated solution
Capture data from inaccessible or dangerous areas to keep your team safe
Monitor sound signature changes in real-time to prevent unscheduled maintenance
Visualise the unheard and unseen with the power of acoustic imaging. The SV600 Fixed Acoustic Imager enables users to continuously detect, locate and visualise air and gas leaks or changes in sound signatures before they become costly problems.
By using an array of sophisticated sound sensors, the SV600 can be mounted close to any equipment or asset, to any area of the production line, or where human access is restricted or dangerous to ensure you can monitor the most important parts of your facility without interruption.
As a fixed, automated solution, the SV600 integrates with your process and eliminates the need for lengthy fault-finding processes such as soapy water tests, when used as part of your product leak testing process. By continuously monitoring your environment, you can quickly detect and fix air leaks – reducing your consumption of compressed air and energy to help save your facility money.
Key Features:
High-end 24/7 acoustic monitoring
64-Digital MEMS microphones placed in a Sunflower Array
Integrated visual light camera
Powerful processor for onboard real time processing

Sound classification
Frequency filtering
dB values and sound intensity mapping
Event triggering

Ethernet network communications interface with installed 8-wire M12 fieldbus or RJ45 connector
Power over Ethernet (POE)
Ingress Protection IP54
Option for IO support through fieldbus coupler
SoundMap™ Technology
By using powerful SoundMap™ technology, the SV600 translates the sounds that it hears into a visual representation so that you can quickly locate and quantify problem areas. This provides facilities with further insights into product quality or safety concerns, as well as the ability to quickly detect changes across compressors, pumps, pipes, and more.
In addition to 24/7 remote monitoring, the SV600 integrates into factory systems seamlessly and user-defined alarms can be established to alert users when sound signatures have changed, even in the parts of your facility that are hard to reach.
By serving as an early warning system, facilities can continuously monitor equipment to optimise performance, perform preventative maintenance or detect anomalies well before a failure occurs to keep your processes up and running.
SV600 Payload for Spot® from Boston Dynamics
The SV600 Acoustic Imager can currently be used as a payload for Spot® from Boston Dynamics. Spot automates sensing and inspection, captures limitless data and can explore without boundaries, all while the SV600 enables you to continuously detect, locate and visualise the unheard and unseen.