Reading Time:
< 1
minute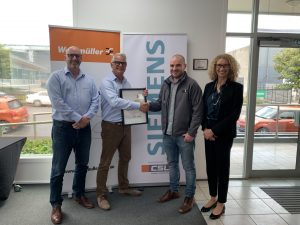 DRE Systems, a leading industrial automation company based in Wellington recently joined Cuthbert Stewarts System Integrator Partner program. DRE has experience delivering innovative integrated control and safety projects.  This made them obvious choice in the lower North Island region.
"DRE Systems are both delighted and excited to be joining the CSL Siemens SI partnership program.  CSL brings expertise with their product range and reliability through Siemens, Weidmuller and in-house services.  We see CSL as the unified partner to our system integrator & panel building businesses and are grateful to be selected.  Cuthbert Stewart Ltd's company values, and being a family owned business, are shared with us at DRE Systems.  We look forward to working together along this journey and into the future." Dan McNicholas, Managing Director, DRE Systems.
The System Integrator program is a tailored offering. This allows us to support partners on their Siemens journey and help to unlock the potential Siemens software and hardware offers. Working closely with our partners means we can customise a program to include personal skill development, exclusive training and support.
We are very much looking forward to working closely DRE systems to bring innovative automation and safety solutions to their customers.