Reading Time:
2
minutes
March 7th to 11th marked the return of the Western Institute of Technology in Taranaki Hazardous Area Training module hosted by CSL in Auckland. This course is designed for electricians, electrical inspectors and instrumentation technicians who will be working with electrical apparatus in explosive atmospheres, instructing them on relevant safety regulations and the latest legislation.
Our next course will be held on 7th – 11th of November. Click here for a  Course Outline. Or Register your interest with Joanna Brown of WITT.
---
WITT's hazardous area specialist and instructor for the course is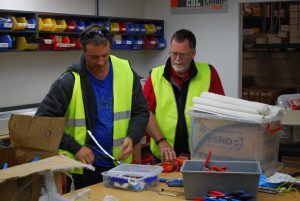 Peter Lind. Peter's comprehensive experience in the hazardous area industry means he is ideally suited to train electricians on the intricacies of explosion protected electrical equipment.
The course begins with a theoretical session that teaches the students understanding of electrical apparatus in hazardous areas such as dust, gas, heat or pressure environments and how to report on the integrity of the apparatus. Trainees then move to the CSL customising and assembly workshop where the practical component of the course kick in, providing valuable hands on learning.
The practical session focuses on installation training, maintenance of apparatus and of course safety. To keep hazardous area workers safe the participants are instructed on how to safely attend to breakdowns and how to identify risks associated with hazardous area work.
This hands on course from WITT gives the participants the accreditation but also the confidence to work effectively and safely with electrical equipment in explosive areas.
Contact:
Joanna Brown – 

Oil & Gas Manager
DDI: 06 757 3258 or 0800 948896 ext 8883
Please click on the photos below to expand.