Reading Time:
< 1
minute
In this issue……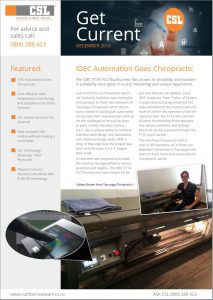 IDEC Automation Goes Chiropractic
Innovative use of the IDEC FT1A mini PLC with built in Touch Screen on an automated Chiropractic bed.
Introducing MilkSure
Cost effective, Milk temperature monitoring and compliancy for Dairy Farmers
CSL Labels Have Got You Covered
CSL's one stop label shop offers a range of printers, labels and markers that is amongst the most extensive in the industry.
Now measure 100 metres without moving a centimeter
Introducing the new range of laser levels from Fluke
CSL Technology Showcase – New Plymouth
The CSL Technology Showcase series kicked off with a visit to Taranaki
Klippon Connect – Maximum flexibility with PUSH IN technology
Introducing the terminals innovation from Weidmuller
Want to be added to our mailing list? Get in touch.
Email: team@cuthbertstewart.co.nz
Phone: 0800 288 423