Reading Time:
2
minutes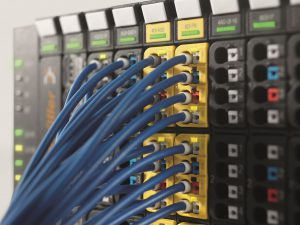 Weidmüller u-remote offers the perfect solution for all common areas of application within machinery construction. Whether it's used as a pure panel system, in mixed IP20 and IP67 applications, or even positioned directly in the field for signal connection, u-remote grants you complete freedom to create a flexible I/O architecture and gives you the benefits of an integrated complete system.
The innovative remote I/O concept focuses purely on user benefits: tailored planning, faster installation, safer start-up and minimized downtimes. This allows considerably improved performance and greater productivity. Plus, huge reductions in cabinet size is a reality thanks to the narrow design of 11.5mm and the need for fewer power-feed modules due to the dual power paths isolating inputs and outputs.
The integrated web server capability speeds up maintenance work and allows you to run diagnoses remotely using any standard browser and without having to install any software. You can also simulate inputs and force outputs, locally and with ease.
Status LEDs on the u-remote module and beside each digital input / output channel enable reliable diagnosis and rapid service. Ordering of the required module is further simplified by just one item number per module. This makes planning more flexible, module selection simpler and fewer replacement parts that have to be held in stock.
---
The formula:
"More Performance. Simplified. U-remote."
11.5mm wide Din Rail mount modules
4,8 or 16 Digital input/ output card combinations
4 channel Analogue I/O or 8 AI ribbon interface
System size to 64 active modules ( 1024 DI/DO)
808mm length for 64 modules including end stops
256 DI/DO's in 20μs.
2 x 10A power paths separating input/output power
1 part number for complete module = simple ordering
Hot swappable modules = short downtimes
LED indication parallel to wire entry = fast operation analysis
Central LED indication per module = simple diagnostics
Web page = reduced commissioning time, faster diagnostics
Software = simple design, smoother engineering, faster ordering
Request More Information
Want to find out how CSL and uremote can help you?
Watch:
Contact Us:
Customer Support Team
Email: support@csl-online.nz
Phone: 0800 288 423