Reading Time:
2
minutes
Innovative new Thermal Multimeter from Fluke
The 279 FC Thermal Multimeter is a full-featured digital multimeter with integrated thermal imaging that is designed to increase your productivity and confidence. The thermal multimeter helps you find, repair, validate, and report many electrical issues quickly, improving your ability to solve problems.
Thermal imaging multimeters are a first-line troubleshooting tool for electrical equipment that can check hot spots of high-voltage equipment and transformers from a safe distance, detect heating of fuses, wires, insulators, connectors, splices and switches. Scanning with the 279 FC's infrared camera reveals many electrical issues quickly and from a safe distance.
By combining two tools into one, the thermal multimeter lightens the load and increases productivity.
Full-featured DMM with integrated thermal camera

Expanded measurement capabilities with iFlex®

Memory storage through Fluke

Connect® measurements app
For Industrial electricians and technicians with significant maintenance responsibility who need to identify problems fast and be fully confident the problem is addressed and documented, the 279 FC is the first Fluke digital multimeter with integrated thermal imaging, Fluke Connect® benefits, and iFlex® compatibility that you never want to be without. It will become the cornerstone of any technician's tools, combining two tools in one to increase their productivity and confidence by helping them find, repair, validate, and report electrical issues easier and faster than any DMM or clamp in the market today.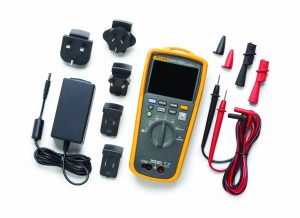 • It gives you a heatmap to quickly and safely see where the hotspot is before you begin repairs
• Two-in-one tool is designed to increase productivity – no need to go back to the truck or office to retrieve a shared camera or wait for the thermographer – do more in less time!
• Fluke Connect reduces time consuming reporting – by easily assigning images to work orders to validate work is complete
• iFlex expands your measurement capabilities – get into tight, hard to reach spaces for high current measurement (up to 2500A)
For more information:
Contact Us:
For a demo of the new 279 FC contact our Customer Support team.
Phone: 0800 288 423
Email: team@cuthbertstewart.co.nz